THE HIGHLY ANTICIPATED TRANSITION BIKES HAVE ARRIVED FOR 2018
It will come as no surprise to Transition fans that the brand new 2018 line up has finally started arriving, and people are going wild.
With a full new design across the entire range, comes new technology. The questions of availability have be thrown at us for months now. And we can finally say, "YES, we have them in stock."
So we wont keep you waiting any longer, Here's what Transition Bikes have to offer you…
TRANSITION SENTINEL 2018
The Transition Sentinel 2018, is the new boy to the Transition Bikes family. Transition themselves say, the Sentinel 2018 has been designed with '29er haters' in mind. The Transition Sentinel 2018 is a capable and playful 29er while staying responsive when throwing it downhill.
Featuring Transition Bikes SBG (Speed Balance Geometry), the Transition Sentinel 2018 is a LONG & SLACK 29er.
Along with SBG, Transition Bikes have redefined their suspension to now feature GiddyUp 2.0hh.
With 140mm on the rear and 160mm up front. The Transition Sentinel has plenty of travel for you push the limits.

Transition Patrol 2018
The Transition Patrol 2018 has a full revamp. Every Transition fan found out that these guys were coming during the summer of 2017. It was definitely worth the wait. Not a very technically comment, but have you seen the colours? Here in the Storm Grey and the BEAUTIFUL  Ponderosa Green.
The Transition Patrol 2018 comes LONGER, SLACKER and LOWER than previous models, all thanks again to Transition Bikes SBG. With 160mm on the rear and 170mm at the front end, the Transition Patrol is designed to take some BIG hits.
sbg – speed balance geometry
You keep hearing SBG, what the hell is it? Grab your brew, sit back and we'll explain.
Speed Balance Geometry is the creation of Transition Bikes. As our beloved sport has evolved, so has the trails we're riding, therefore its time for the MTB to evolve. Transition had a dream to create a bike that corners like its on rails, fills every rider with confidence in every corner and climbs like stink.
The answer to better bike handling is simple, LONGER & SLACKER. However, push the boundaries too far an your going to notice it. At slower speeds and flat terrain, your slack steeds front wheel is going to feel miles away & your going to struggle to weight that front end correctly.
Transition Bike's SBG utilizes frame size to create a longer bike and place the rider directly in the centre. Transition managed to do this by lengthening the top tube, along with a slacker head angle and a steeper seat tube, placing you directly over the bottom bracket. This all gives you more traction climbing, less sag and way more confidence in descending and cornering.
For SBG, Transition say you have to use a specific fork with with a much shorter offset than a traditional fork. This allows you to gain full potential of SBG.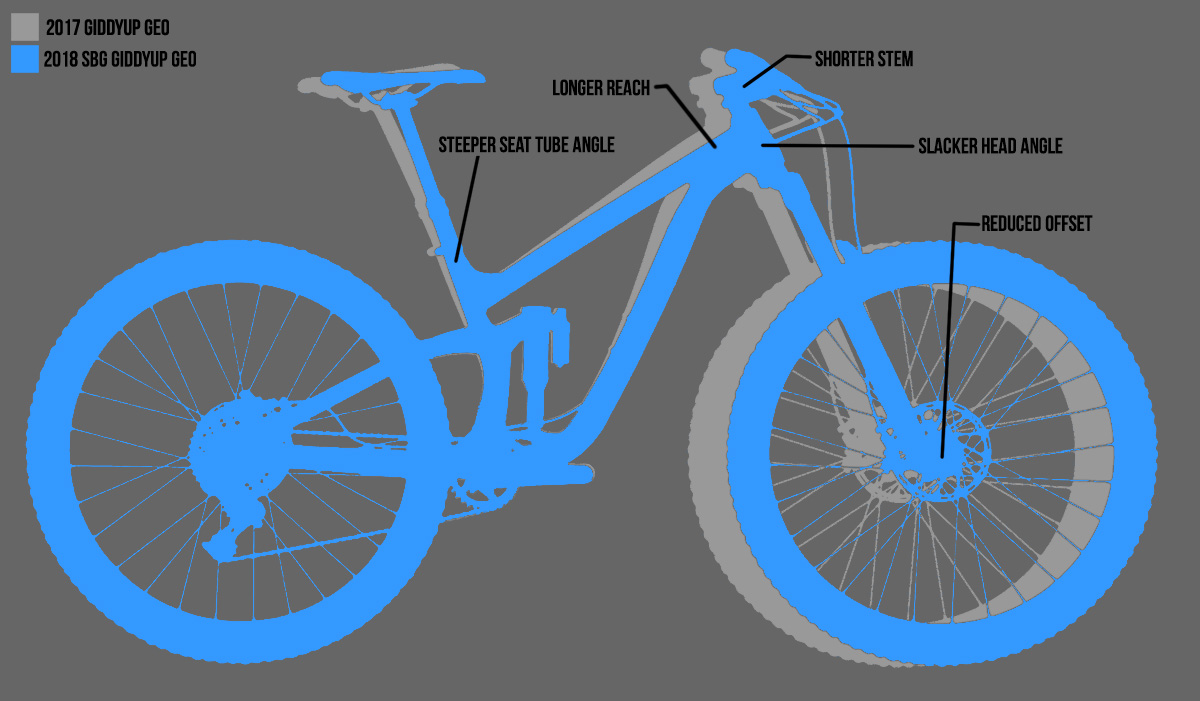 Transition Bikes have also fully redesigned the Transition Scout and its bigger wheeled brother the Transition Smuggler, both featuring SBG and the updated Giddy Up 2.0hh suspension technology.
As usual, Transition Bikes offer you Frame Only options or with a variety of build kits to make a bike to match your needs a budget. All bikes come available at either SRAM x01, GX or NX.
With all the hype for the past number of months, you can imagine how quick they are moving. Our insiders tell us that if your not quick, you want be able to get your hands on one of these rides until into the new year.
MAKE SURE YOU BAG YOURS TODAY